Aging in Place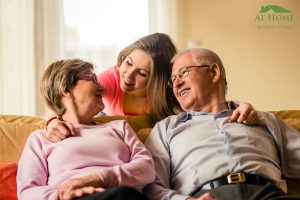 Americans 65 years and older is the fasting growing segment of the population.   Within this demographic, the fastest growing group are people age 85 to 94!   According to the 2010 United States Census, this group grew from 9.5 million in 2000 to 12.4 million in 2010.
Overall, we are healthier and with major advancements in healthcare technology and pharmaceuticals.   The average life span is increasing by several years.   Due to better health, more people are working more years and also enjoying retirement for a longer period of time.
If we look at small segment of the population, 85 years and older, the population estimates will increase from 14% of the older population to 21% by 2050.
Baby Boomers are determined to stay in their home!
In many cases, their homes are where they lived for most of their adult life. It is where they raised a family and built a lifetime worth of memories.  They are reluctant to move, preferring to stay in their home even into their 80's and even 90's.  Despite needing additional care-giving and support, the number of people who want to stay at home is growing.  In a 2014 study by AARP, 87% of people 65+ want to stay in their home.
Often, even if people are finding that a home with multiple floors and property is too much for them to handle.  They are downsizing from their home to a Coop or Condo in developments catering to older people.  They are moving into smaller residences but they are not considering Assisted Living or Independent Living facilities.
Benefits of Aging in Place
Aging in place has a lot of benefits:
Safety: People feel safer when they are in familiar surroundings. Older residents will need to make upgrades and modifications in their homes. The feeling of safety is significant leading to lower anxiety and better health
Independence: The Baby Boomer generation is the most independent generation in the history of the United States.  They are not going to be so quick to give up everything they have built to move into an assisted living facility.  They will feel they are losing their independence and even their identity
Comfort: Most people do not deal well with change.  A lot of older Americans are already dealing with a significant amount of change.  Old friends are passing on, they may have some health issues or may not be able to be as active as they have in the past.  Kids and grand-kids are also getting older.  Living in your own home is comforting and familiar
Proximity to Family and Friends: The draw of aging in place is not just the home, but the neighborhood.  You know everyone in the grocery store, bank, dry cleaners, and bagel place.  More importantly, you community is where your friends and family live. Having access to these people is a great benefit
Saving Money:  The mortgage is paid in most cases with a significant amount of equity.  Moving to an assisted living facility would require selling the home, which most people will not want to do.  Most of the income would go to the facility, not to mention any other savings they may have
Aging in Place is beneficial in so many physical, emotional, and financial ways.   Do not be surprised if the already high numbers of people who have chosen to retain their identity and independence gets even higher.
Call At Home Senior Care Today
At Home Senior Care has been providing Senior Home Care services in the Long Island area for 18 years. Our families of caregivers are Registered Nurse supervised trained and reliable professionals who are insured, bonded and cleared of background checks.
Whether your loved on needs Licensed Home Care, non-medical Companion Care, or even a Healthcare advocate to help with doctor's appointments and health insurance, At Home Senior Care can help.
When it's time to reward your loved one with the gift of extended family, contact us or call us at 855-419-3109 for a 3-Hour Free Trial Companion Care Visit.