Incidental Transportation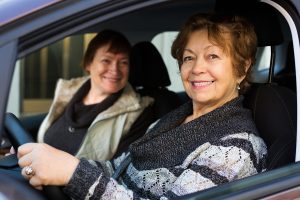 Incidental Transportation is one of the services provided by our Companions from At Home Senior Care.
Most people start their days with a plan. They know they have to go food shopping and run to the pharmacy to pick up a prescription. The list of errands can get pretty extensive on days when you just want to get everything done.
Sometimes a day doesn't have a plan. Sometimes even if there is one, things are constantly changing. There are times you need to get to a doctor's appointment. Or you were called by a friend to meet for lunch, a movie or just to meet for snack and a game of cards. These are the everyday things that were so easy. As we get older, some of the things we used to take for granted, like driving, especially in bad weather or at night, are hard to do. You may feel like you have lost some of your freedom because it isn't as easy to get out of the house as it used to be.
Ride Share Applications are Not for Everyone
In the age of people calling for cars on their smart phones, people will say that transportation is always available. However, there is a concern of safety. Not only do you not know who you are getting into a car with, if there is an emergency, they will not know what to do or what you need. To some, just the thought of getting into a strange car with someone you do not know is just not one they are willing to consider.
Incidental Transportation is one of the primary benefits of our Companion Care Services. We will help with the groceries and the errands. We will also help with those times that you just need to get somewhere, whether it was a planned thing, like a doctor's appointment or a last minute change of plans, like meeting a friend for a movie.
Aging in place is a great way for people to be able to be comfortable knowing they are in a place they know with the things around them that they have accumulated throughout a lifetime of experiences. Not being able to go out and do what you want to do can cause even the comfort of home to become a place of dread and anxiety.
Maintain Your Freedom
With our Incidental Transportation service as a part of our Companion Care services, you are able to maintain your freedom and go and do the things you want to do. You are no longer stuck at home with no way to live the life you want.
Go out and do things. Make a plan. Have fun, and know that when you need to go out, we are here for you.
At Home Senior Care provides both Licensed Home Health Care and Non-Medical Companion Care services. Above all, we enable your loved ones to be able to live in their own home. Whether your loved ones just need someone to keep them company, or help with doing some light housework or going to the grocery store, we are here for you. We know you would like to be there whenever your loved ones need you to be, but you have other responsibilities to work and family. We are there when you are not able to be.
Call At Home Senior Care at 855-419-3109 and see what services we are able to provide to help your loved ones stay at home during their golden years.