Don't Parent Your Parents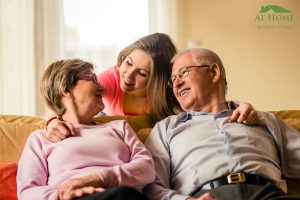 There is a common saying that eventually the children will become the parents.  This is an attitude that should be avoided when it comes to adult children that have to take care of their aging parents.  This is a saying that can cause stress and anxiety for everyone involved.
While it is true that as we get older, we may have to resume the responsibility of taking care of our parents, how you view the relationship, and how your parents view the relationship is very important.  Your parents have spent a good part of their lives taking care of you and raising you to become the person that you are today.
If by helping, you see yourself as the new parent and in control, you are stripping them of the dignity and the importance of being the parents and the patriarch and matriarch of the overall family.
This can not only cause stress on your parents, but by assuming the role as "parent" to your parent, you are now adding more responsibility to your already busy life which includes your own kids, career, pets, kids sports and other activities.
There are ways to take on the responsibility of taking care of aging parents without causing this level of stress on everyone.
Multi-generational Family
Conflicts are very common in a family situation where a child has to care for their parents.  These arguments often arise when decisions are unilaterally made by the children without any input or discussion with their parents.  Unless your parents no longer have the capacity to make decisions due to a serious health issue or dementia, decisions should be made together.  Your parents are not your kids.
Despite age, your parents have a lifetime of experience to draw from and they need to be a part of the decision making process.  This may also lead to conflict when there is disagreement, but if people are treated with the love and respect they deserve, even disagreements can be worked through.
Communication
The main issue here is communication.  If your parent feels like they are being handled,  they will act accordingly.  No one likes to feel like they are being handled.  Your parents may be dealing with some serious issues such as declining health like blood pressure or physical issues as arthritis in hips or knees that make it difficult to get around.
These are issues that can cause serious anxiety as it is natural to be nervous about the prospect of aging and having less years in front of you than behind you.  This anxiety can be greatly increased if they are now out of the loop when it comes to decisions regarding their health and well-being.
As a part of the baby-boomer generation, the chances are that your parents are going to want to remain in their own residence.  This can be the home they have been living in for years or it can be moving out of the house into a 55 and older community.  More and more, our parents' generation is foregoing independent and assisted living facilities to maintain their own sense of self and independence.  In the long run this can lead to more of a responsibility for you and your siblings.
This is where the services of At Home Senior Care can help.  We offer Companion Care and Licensed Home Health Care services as well as other services such as 24 hour monitoring.   You can have the peace of mind that your parents are in good hands and you do not have to rearrange your entire life or sacrifice your free time or own responsibilities in order to know your parents are taken care of.