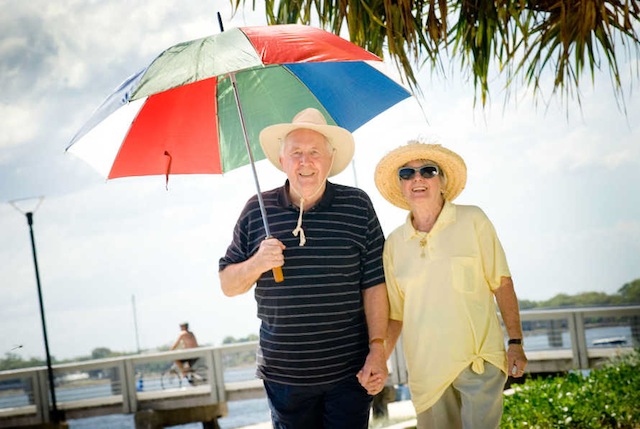 Summer is here and making sure your elderly loved ones stay safe is important. As they get older they tend to not want their kids to worry. Making them not tell you when somethings wrong. During the heat of the summer it is so important to make sure they are safe. Here we have some tips for you to help you keep your loved ones safe.
The most important, stay in touch. Make sure to be calling them often. You need to know their every move. The heat tends to shorten elderly people's life expectancy. Therefore, making sure you know when they're going to be outside in the heat for an extended period of time is important. Even if they don't go outside often just calling to make sure they are feeling alright is important in keeping them safe.
Knowing who to call is also extremely important. If your loved ones tells you they are not feeling well, you should know who to call to get them help. Maybe it's something simple like a cold and they just need a little soup, or something serious and they need an ambulance. As their child or caregiver, it is crucial you know what to do in that situation.
Making sure your senior is dressed properly for the weather and is hydrated is extremely important. It is said that cotton tends to be a light fabric. It is great to be worn in the summer heat. Remind them that a cotton t-shirt will be better for them.
Also, making sure they are drinking plenty of liquids. Water is the best way for them to stay hydrated and cool. Especially if there out in the sun, water is so vital to them staying safe and healthy.
Another way to protect your elderly loved one is to apply sunscreen on them. Even if there just going out to garden, making sure they have on the proper skincare will help them to protect themselves. They might be stubborn and say they don't need it, but they do! It doesn't matter your age, sunscreen is essential in going outside in the summer.
It's good to have your neighbors keep an eye on your seniors. Build a relationship with them and have them learn their schedule. So, if they tend to veer off of it, their neighbor can let you know, and you can stop by or give a call.  If you live far this is something great so you can reassure yourself your loved one is safe.
These tips should be helpful to you in keeping your loved one safe during the summer. It's seems a little overwhelming, but something you need to do to ensure your loved one stays healthy all summer long. If you need assistance, we can help. Our Companion Care service is a perfect fit for those looking to keep an eye on their loved ones in the comfort of their own home. Contact us today!